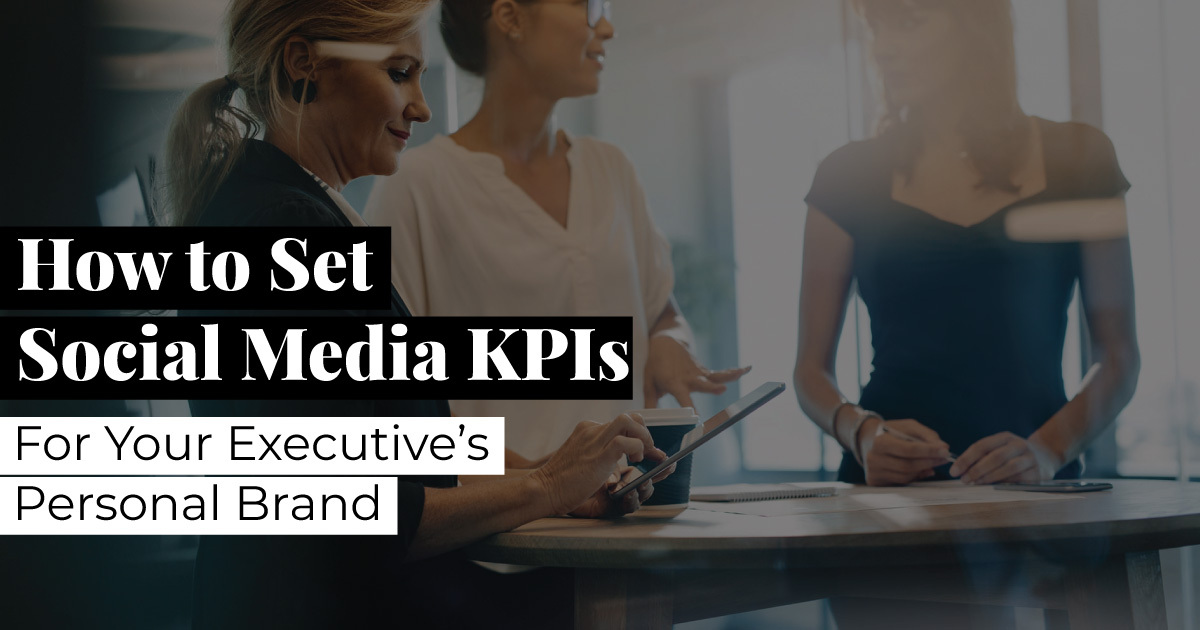 22 May

How to Set Social Media KPIs for your Executive's Personal Brand

Posted on May 22, 2020

in

Guide

The benefits of social media for businesses does not end at the brand's presence, but can also extend to include its leadership team. Whether handled by an in-house marketing team or an outside digital marketing agency, more executives are establishing a stronger online presence through popular platforms like LinkedIn, Twitter, and Instagram. When executives use social media to establish their personal branding, this has been proven to be a highly effective way to complement a brand's existing social media strategy.

When establishing your executive social media program, one important step is to set key performance indicators, or KPIs. As the name suggests, KPIs help measure the performance of your campaign. It is helpful to think of it as a measurable goal that can be set before the social media campaign begins. Throughout an executive's social media program, these numbers can be used to give marketers a sense of how well things are going.

One aspect to keep in mind is that different KPIs will be more important during different phases of your executive social media program. Some KPIs are more important during the earlier months, while different ones may be much more crucial during the later stages. This also depends on what the executive's business goal is for their brand strategy.

Some KPIs are also interrelated—improving one may depend on improving some other elements of the executive's online presence. For example, if your goal is to increase website visits by 25% through your executive on social media, increasing the executive's follower count and improving their content's impression metrics are important first steps.

In this article, we will go over the main steps for setting social media KPIs, different goals an executive may have when creating their social media program, and the related KPIs that should be top of mind.
Steps for establishing KPI goals
Step 1: Establishing the primary goal of your executive's personal branding program

Your most important KPIs will also depend on the overall goal of your executive social media program. Is your executive content going to help drive leads, build brand awareness, bring in new talent, or another goal altogether?
We recommend setting a primary goal and a secondary goal, with the primary goal being your main focus. By limiting yourself to two business goals, this will simplify the process of setting social media KPIs and tracking metrics over time.
A common brand strategy many businesses utilize is to have their CEO or other C-suite executives on social media to help promote the brand. In this case, the primary goal could be building brand awareness while a secondary goal could be driving leads or setting the executive up as a thought leader within their field.
Step 2:  Identify which KPIs are important to measure

After establishing your goals for why you want to build your executive's personal branding, the next step is to identify which KPIs are important to track. Here are some of the main categories that KPIs fall under:
How to Measure KPIs Related to Engagement
If we look at an executive social media program as a marketing funnel, many KPIs related to engagement would be at the top or middle of the funnel. Engagement metrics are among the most important to track because they are related to many business goals, such as improving the executive's overall social media presence, improving brand awareness, and driving leads. Important KPIs to measure for engagement include link clicks (if the content posted typically includes a link), shares (how often the content is reposted by other people), the number of likes, and the number of comments left on a post. Digital marketers can also track engagement with branded or personal hashtags (e.g. if an executive uses a specific or unique hashtag in their posts).
These surface-level metrics can be easily found on the social media platform itself, but for a deeper analysis of the content, executives and marketers may need to utilize third-party software to pull data that is not readily available. For instance, our brand strategy consultants use our proprietary Social Intelligence Optimization tool to pull custom data unique to the executive or client.
How to Measure KPIs Related to Reach: 
For executives with a primary goal of building brand awareness, KPIs relating to reach are important to track. It is a measure of how many users on a given social media platform are seeing the content. KPIs include follower growth, content views/impressions, and mentions.
How to Measure KPIs Related to Leads: 
The third group of KPIs that can be important for an executive's personal branding program are those related to driving leads. This includes the number of site visits, tracking inbound leads, profile visits, and search appearances. These KPIs are more important in the middle to late stages of the marketing funnel. It is typically measured in later months after the executive social media program has been established for at least six months.
It is important to note that these late-stage KPIs tend to rely on engagement KPIs. In other words, tracking site visits (leads) depends on clicks (engagement). If an executive's content is not drawing a lot of engagement or their content has low reach, it is more effective to bolster these two areas before setting aggressive lead-related KPIs.
Step 3: Research KPI baselines by analyzing competitors within your industry
The next step is to take the KPIs that you are tracking and establish a baseline. This can be done in two ways. First, if the executive already has an account on social media, review their account and content. Even if you have not implemented the social media program yet, take down the important metrics you will be tracking over the course of the social media program, such as engagement levels, reach, and follower counts. For example, the executive's content on Twitter may generally receive ten likes, one reshare, and zero comments per post and typically gain five new followers per day. By establishing a KPI baseline, this will help give marketers a better sense of how the social media program is performing compared to before the strategy was implemented.
The second way to establish KPI baselines is to look at competitors and see what type of content they are posting. When measuring KPIs for competitors, look at both well-established accounts with a large following and smaller accounts. The latter will be more in line with a new executive just starting on social.
Step 4: Set specific KPIs that are realistic
The final step is to set clear goals that are specific—use numbers, refer to specific KPIs, include dates, and so on. However, it is important for digital marketers to be realistic when setting KPI goals for the executive's social media program. If a brand new account is being created on Twitter, marketers and executives cannot expect to average ten retweets a day right from the beginning.
Engagement is built on consistent posting and high-quality, valuable content. It takes time to build up authentic engagement among your target audience, especially if an executive is starting a new social media account or if they are rebranding/repositioning an existing social media account and their new business goal does not align with their past content/follower base. In the latter case, expect to see a dip in engagement levels and potentially net follower decrease during the earlier months. This is normal as the content is being revectored and a new target audience is established. The main idea is to gain followers that contribute to the primary and secondary business goals.
Set Social Media KPIs for an Executive's Personal Branding Program
By using its leadership team as another part of its marketing strategy, businesses can take advantage of the fact that users on social media prefer interacting with an individual over a faceless brand account. When establishing a personal branding strategy for an executive, setting social media KPIs can help marketers track the program's performance.
If you want to learn more about how to convert your executive into your brand's most valuable marketing tool, click the button below to download our free guide, How to Get Your Execs On Social.
Download our free executive social media guide!
In the meantime, don't forget to follow Influential Executive on Instagram for interesting social media stats and executive highlights!