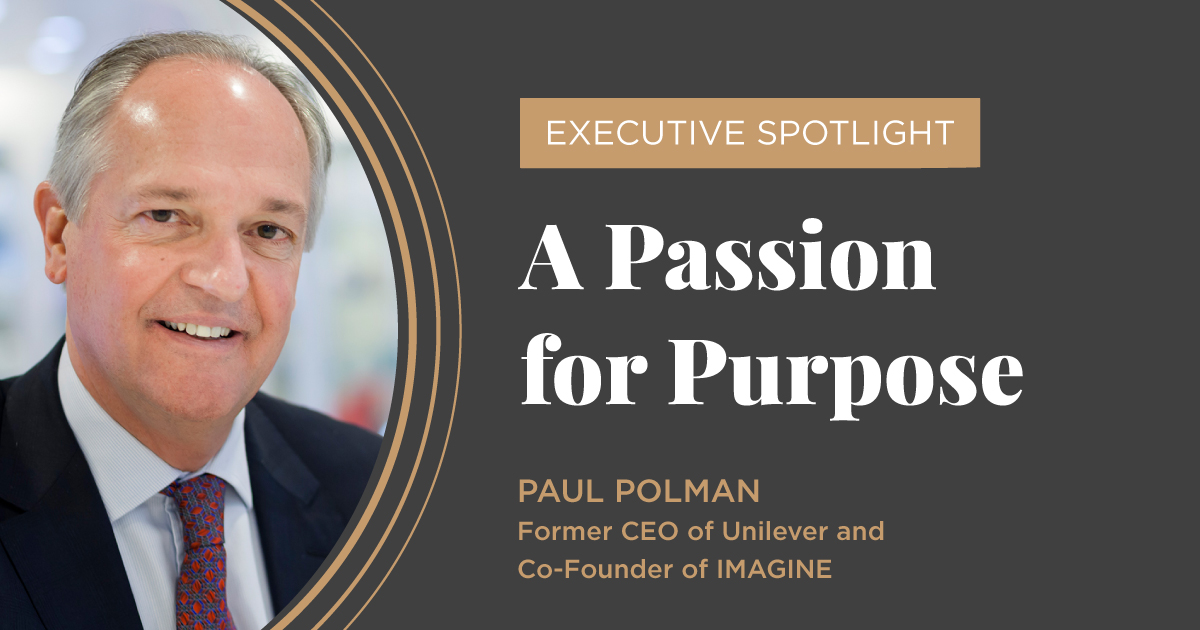 06 Dec

Executive Spotlight: a Passion for Purpose

Paul Polman is all about the "four Ps:" people, purpose, passion, and positive attitude. During his 10 years at Unilever, Polman was known for his own personal brand of responsible capitalism, focusing on sustainability. After stepping down as Unilever's CEO at the end of 2018, Polman went on to co-found IMAGINE, a B2B brand. It is a consulting firm that helps businesses tackle issues regarding climate change and inequality.

Almost an entire year ago, we took an in-depth look at Polman's Twitter account in our previous Executive Spotlight article. In this article, we will be analyzing his Twitter once more, as well as his LinkedIn profile for the first time, and see what–if anything–has changed since 2018.
Twitter: Sharing Articles with Users
Compared to our previous Twitter analysis, not much has changed with Polman's content. He is still very consistent with the topics he shares, maintaining his image as a humanitarian. The biggest change is that while he previously had tweets directly related to his past company (Unilever), his current tweets do not make any connections to his current brand, IMAGINE.
For many executives' Twitter accounts we have analyzed in the past, the header banner is often the weakest part of their profile, typically featuring a low-resolution, blurry image. This could potentially be the result of executives uploading banner images through their phone, where images would not look as pixellated.
However, Polman has done everything right with his banner selection. The image is high quality, well cropped, and the quote is noticeable and easy to read. It also portrays a sense of his personality and personal interests to the viewer, which becomes more evident in the type of content he tweets about.
[Source]
His Twitter bio does not make any reference to his career or company, but rather expresses his outlook on life. As we will discuss in another section below, his profile one-liner has been carefully crafted and is a succinct way of describing himself.
Among his Twitter posts, the majority of his tweets are about important global issues, such as climate change, gender equality, food scarcity, and poverty. In terms of best practices for this platform, Polman sometimes makes use of tagging, whether it is other users or businesses, though this is often inconsistent.
The majority of Polman's Twitter content consists of him sharing an article and making a comment on it. In some cases, he takes a direct quote from the article, such as the example below.
"Our collective failure to act early and hard on climate change means we now must deliver deep cuts to emissions – over 7% each year, if we break it down evenly over the next decade." #netzero @UNEP https://t.co/1HjaZ9YQ8g

— Paul Polman 😷 (@PaulPolman) November 27, 2019
The quote includes a stat, which is more engaging and helps garner interest in the article. However, executives should not rely on this method of quoting from the article too often, as it is not entirely original content.
I am #GenerationEquality and I stand against rape. Stand with me on International Day to End Violence against Women, and let's demand justice for survivors by showing that we have zero tolerance for gender-based violence #orangetheworld pic.twitter.com/KI8FQ30BL0

— Paul Polman 😷 (@PaulPolman) November 25, 2019
Polman also makes use of timely or cause-related hashtags. This type of practice can help increase engagement and show that executives are aware of current events. Another example of Polman participating in timely events is his tweet for World Children's Day.
Indeed the world is still long on words and short on action. Hypocrisy increasingly exposed and no it's not only at government level. Speak up for accountability , demand action and call out if disregard. https://t.co/pdbeGFRnB2

— Paul Polman 😷 (@PaulPolman) November 21, 2019
In analyzing Polman's posts, tweets where he is giving his own personal thoughts generally receive more engagement in terms of likes, comments, and retweets. Tweets where he is taking content directly from the article, such as the title or a quote, typically see lower engagement. Executives on social media should always remember that users want to engage with engaging content ­– not something that was just copied from an article.
The moral case for #GenderEquality is obvious, but disappointingly society is still missing a collective sense of urgency. We're overdue for change #WednesdayWisdom pic.twitter.com/a8CekMpPue

— Paul Polman 😷 (@PaulPolman) November 6, 2019
Another type of post on Polman's Twitter account is quote graphics, such as the one above. They all use the same template and provide a visually interesting look that is different from his other content. Content featuring quotes is easily shareable and is a simple way for executives to add original content to their social media feed.
LinkedIn: a Good Platform for B2B Brands
The other primary platform that Polman uses is LinkedIn, which we did not cover in our previous analysis. Similar to Twitter, Polman uses LinkedIn to share articles about key issues, like climate change. However, there is understandably more focus on his company on this platform, as LinkedIn is an excellent resource for businesses to connect to other professionals. He often posts brand-related content, such as the example below:
None of his posts are overly promotional, but rather point out his company's successes and what they have accomplished. This type of post is generally less about promoting a B2B brand's offerings and more about keeping the brand top of mind for consumers in a positive way.
On LinkedIn, Polman's posts often feature more written content, as this platform does not have a small character limit like Twitter. His posts garner more engagement on LinkedIn, and tend to average around 500 to 1,500 reactions and 10 to 50 comments.
Influential Executive: B2B Brand Content
On both his Twitter and LinkedIn account, his brief bio description is the same: "People, Purpose, Passion, Positive attitude." This, in conjunction with his name, makes use of alliteration and is easy for readers to remember. This not only sums up his interests and the content he shares, but is also the basis for his company, IMAGINE.
When he posts the same link or article on both platforms, the copy is completely different, such as in the examples shown below:
This is unheard of and historical.All major CEO's in US and unions working together calling for climate action and Paris agreement.Never seen before.Courageous and right thing to do.Even major banks and heavy emitters included.Kudo's to all who signed. https://t.co/zo8cNUvKMb

— Paul Polman 😷 (@PaulPolman) December 2, 2019
Unique content such as this provides users with an incentive to follow executives on more than one platform. This is particularly crucial for executives who are on more than one social media platform.
Looking at his content, the majority of his posts are sharing links, but that is not a drawback. Sharing articles and other resources is an effective way for time-strapped executives to engage in social media. Two of the most important factors are in making sure the content shared is timely and comes from a credible source – both of which are no issue when it comes to Polman's content.
Although Polman can work on making a stronger connection to his B2B brand, the content he discusses on social media shows how engaged he is in social issues. This not only strengthens his own personal brand as an advocate but also extends to his company as well.
Improvements: CTAs are important!
One of the important steps for executives on social media is to make use of the platform and all of its features. On Twitter, Polman should add a link to his bio section. Many executives link to their brand's website, or even an initiative or charitable foundation they are involved in. In Polman's case, a link to B2B brand's home page would be beneficial in establishing a stronger "link" to his company.
When sharing articles, one way to increase engagement is to end a post with a CTA or "call to action." A simple and straightforward CTA calls on the user to read the article, while a more personalized CTA could be asking a question to get users commenting on the tweet.
For some tweets, such as the one below, Polman copies and pastes the article title and uses it as the copy. For executives on social media, this is not a good way to garner engagement as it is unoriginal and adds nothing new to the conversation. Making a personal, original comment to engage with other users will result in higher engagement.
Coal power becoming 'uninsurable' as firms refuse cover https://t.co/cNOadvmUSE

— Paul Polman 😷 (@PaulPolman) December 2, 2019
For both Twitter and LinkedIn, adding a hashtag can help a post reach more people. Polman does not use hashtags on LinkedIn and his hashtag usage on Twitter is sporadic. As with many other aspects of maintaining a social media account, consistency is important!
Executives on social media need to maintain a consistent posting schedule. While Polman is very active on Twitter, he is not very active on LinkedIn. His posting schedule is sporadic, sometimes posting once every few weeks and at times, just once a month. One way executives can improve engagement is not only to maintain a consistent posting schedule, but to post different content on different social platforms. Since Polman's Twitter account is entirely focused on social issues, he can differentiate his LinkedIn account by posting more B2B brand-focused content.
Polman has far more followers on LinkedIn than Twitter – 1,024,766 compared to 59.9K followers respectively. On LinkedIn, his posts tend to feature more personal or original comments compared to Twitter, which generally sees higher engagement as well. Since his consulting business is B2B, spending more time on LinkedIn content is a strong strategy in growing his brand.
Executives walk a fine line when promoting their company on social media. Some may inadvertently come off as too "salesy" while completing ignoring the brand is a lost opportunity. One of the ways executives can talk about their brand on social is to take a similar route to Polman where he shares positive news about the company. Instead of waiting for news, another way executives can talk about their B2B brand is to share more about the behind-the-scenes aspect of the company. Examples from past Executive Spotlights include employee spotlights and giving the reader insight on how they look at resumes.
Conclusion: Strong Original Content is Crucial for a B2B Brand

Based on the number of followers on both Polman's Twitter and LinkedIn profile, engagement rates are on the low side. Executives that focus on sharing articles and resources must keep in mind that users want engaging and original content. Polman's Twitter has generally remained the same, with similar issues that were pointed out in our previous article (e.g. lack of capitalization, not using periods to end sentences). However, our biggest recommendation for B2B brands is to emphasize strong content production on LinkedIn in order to build one's network with other professionals on the platform.
Interested in learning more about what motivates today's top executives? Follow Influential Executive on Instagram for key business stats, inspiring quotes, and more!